---
Purnendu Mandal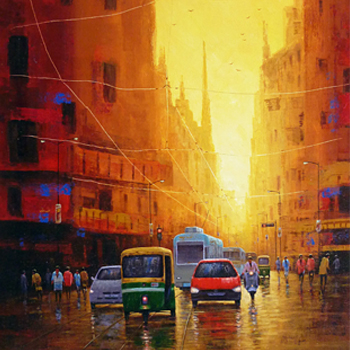 Purnendu Mandal has done his arts education from the Government College of Art & Craft, Kolkata.
Purnendu works in oil and acrylic colours on canvas in an impressionistic style. His paintings focus on urban landscape and daily life.
His art depicts the 'reflection' of Kolkata and other cities in its multifaceted iconic forms; each being glorious, unique and picturesque in their own way. His works highlight the nostalgic memories associated with any individual cityscapes and urban life. The paintings show numerous seasonal forms such as night in city, the life after the rains, life on a rainy day, rickshaw pullers etc.
His emphasis on impressionism and its vivid norms reveal the relevant aesthetics and the desired standards of glory in each work that is unique in its own way. The artist has a fine sense of art, skillful use of brush, rollers, knife and other techniques highlighting the enlightenment and visual panorama of extravagance through relevant motifs, idioms and metaphors.
Subscribe Now
For Latest Updates on Paintings, News and Offer