---
Thota Vaikuntam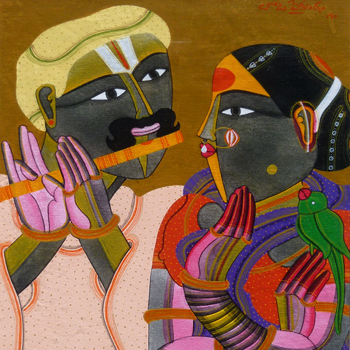 Thota Vaikuntam hails from Andhra Pradesh, in South India, and finds his inspiration in the rural areas of the state. Men and women of his village are often the central characters of his work. Telangana women, in particular, are frequent subjects for his works. The obsession can be traced back to his childhood, when he used to be fascinated by the male artists who used to impersonate female characters in the travelling theatre groups that performed in his village.
Vaikuntam's art has a sense of strength to it, a power that emanates from the paint or charcoal that he applies to the surface, from his controlled lines, and from the fine strokes that he executes. He generally uses only primary colours, as he believes that composite colours do not exist in nature and are therefore, unnatural.
Among his several honours are the National Award for Painting, which Vaikuntam received in 1993, and the Biennale Award from Bharat Bhavan, Bhopal, which he received in 1988-89.
Subscribe Now
For Latest Updates on Paintings, News and Offer